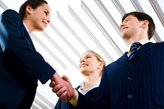 Zumtek is a seasoned technology service provider offering a wide selection of IT and web related services designed to support corporate user needs. Our mission is to provide businesses with high quality technical services, and support at fair and competitive prices.
We accomplish our goal by employing the top certified system engineers, and designers capable of handling distinct and intricate issues. Additionally, we employ the latest technology applications to assure we will address all troublesome issues, and repair those issues quickly and at our first attempt.
What permits Zumtek to differentiate ourselves from the competition is we utilize state of the art remote computer repair technology permitting us to connect and repair most problems remotely thereby, providing fast, secure and reasonably priced computer tech support.
Our experts are confident that our remote computer repair service is the fastest possible way of fixing computers. Year after year, we take pride in servicing an increasing number of customer base and we attribute the increase number of customers to our high quality service, performance and competitive prices. We have designed our service with total customer security in mind complimented with a high quality performance at every architectural level. A few of our services in high demand include:
Please contact our support staff with any questions, or requests you may have. We look forward to working with you in the near future.