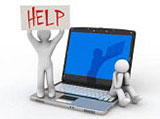 Is your computer running slow? Are you tired of all those annoying pop ups and virus infections? Are you confused on how to perform basic computer tasks? Our technicians can get you up to speed.
Zumtek specializes in computer repair and tech support for home and business users. We offer a wide variety of IT services designed to fulfill all of our client computer needs. One of our most requested home service is online computer repair used for computer virus removal, software installation, training and support, troubleshooting slow computer performance and many more common computer issues.

Please contact our support with any problems you may have for a quick and affordable computer repair services.